Mazda's next generation hydrogen rotary engine will begin testing on public roads in Japan by the end of this year. The company says the vehicle is the world's first hydrogen hybrid car with a dual-fuel system, enabling the use of either hydrogen or gasoline.
Mazda has also announced that it will display and demonstrate its hydrogen rotary vehicles at the G8 Hokkaido Toyako Summit in July 2008. The Premacy Hydrogen RE Hybrid will debut alongside the previously released RX-8 Hydrogen RE at the summit's Environmental Showcase[1].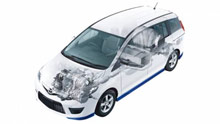 Akihiro Kashiwagi, Mazda's program manager in charge of hydrogen RE development, said, "We are committed to improving the performance of our hydrogen rotary engine vehicles to help promote a more eco-friendly place for the automobile in society. Getting permission from the transportation authorities in Japan to begin public road testing the Premacy Hydrogen RE Hybrid in time for the Hokkaido Toyako Summit is extremely significant, because the eyes of the world will be focused on Japan's environmental technologies. Going forward, we will continue to advance our development program and strive to start commercial leasing during this fiscal year."
The Premacy Hydrogen RE Hybrid incorporates the acclaimed dual-fuel system from the RX-8 Hydrogen RE, which became the world's first commercially available hydrogen rotary engine vehicle in 2006. The Premacy Hydrogen RE Hybrid also features a hybrid system that combines an electric motor with Mazda's hydrogen rotary engine to realize significantly enhanced performance. Mazda's other environmental technologies showcased on the vehicle include "Mazda Biotechmaterials." Used for some of the vehicle's interior plastic parts and seat covers, these plant-derived materials contribute to reduced CO2 emissions.
Under its Sustainable Zoom-Zoom environmental plan, Mazda is dedicated to pursuing harmony between driving pleasure and environmental and safety features, while working toward an advanced Zoom-Zoom future by developing vehicles that "look inviting to drive, are fun to drive, and make you want to drive again."