Nexxus Lighting has introduced the World's most efficient LED Lamp, with an incredible 95 lumens per watt the LED lamps are part of its new Array Lighting brand.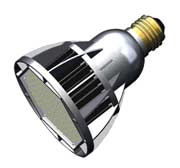 The Array Lighting LED lamp line features Nexxus Lighting's patent-pending Selective Heat Sink™ technology, which lowers thermal resistance to record levels producing the lowest power, high efficacy LED lamps on the market.
Array Lighting's advanced technology and innovative design provide an energy-efficient, environmentally-friendly option for the commercial lighting industry. The line incorporates recycled plastics and packaging, uses 80 percent less energy than standard incandescent bulbs and performs an average of 50,000 hours. Unlike compact fluorescent lamps, Array lamps are mercury-free and lead-free to meet RoHS standards.
Each lamp is fully dimmable, available in cool white and warm white color options and fits standard incandescent and halogen fixtures. The MR16 and the PAR16 provide a solid-state alternative to 35 Watt halogen and incandescent bulbs, respectively, while the PAR30 marks the first LED lamp lumen equivalent to a 75 Watt incandescent bulb utilizing less than 8 watts of power. The G4/G6 fits into standard under cabinet fixtures and includes red, blue, green and amber color options. Additional lamp types will be added in the near future.
"We are proud to introduce the world's first 95 lumens per watt LED lamp line with unmatched performance, low environmental impact and competitive pricing," said Mike Bauer, president and CEO, Nexxus Lighting. "With our innovative Selective Heat Sink technology and ground-breaking Array Lighting brand, Nexxus Lighting has solidified its position as an industry leader in advanced LED lighting technology."