ICON Aircraft, a start-up light sport aircraft manufacturer, officially introduced the company and its breakthrough product, the ICON A5, at a private unveiling in Los Angeles. The two-seat sport plane features an amphibious design with retractable landing gear for flying off land and water, plus several patent-pending technologies highlighted by folding wings that allow the plane to be easily stored and towed on the road with a trailer.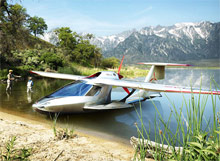 "ICON Aircraft is bringing the freedom, fun and adventure back into aviation by building aircraft that evoke an emotional response like great sports cars do," founder and CEO Kirk Hawkins told a gathering of hundreds of guests that included aviation hero Buzz Aldrin and motorsports legend Jeremy McGrath. "The sport is now back in flying."
The ICON A5 features a high-strength, lightweight carbon fiber airframe and is powered by a reliable, 100-hp Rotax 912 ULS engine that runs on both auto and aviation gasoline at an estimated top speed of 120 mph. Besides the folding wings, more unique features specific to the ICON A5 include an intuitive, sports car-like cockpit with MP3 port, and patent-pending Seawing platform for easy access and docking on water.
"This is the beginning of a new era by bringing in, not thousands, not tens of thousands, but potentially hundreds of thousands of new pilots to aviation," said Vern Raburn, founder and CEO of Eclipse Aviation.
A team of product designers that have worked for leading automotive manufacturers contributed to the ultra-modern industrial design of the ICON A5. A full-scale prototype is scheduled to begin flight tests this summer under the guidance of ICON's engineering team, which is comprised of former top engineers at Scaled Composites, a leading producer of specialty aircraft like the Voyager, GlobalFlyer, and X PRIZE-winning SpaceShipOne.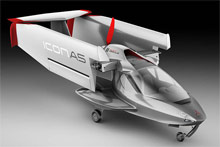 The ICON A5 is designed to be predictable and easy-to-fly with safety features such as a patent-pending Propeller Guard, Wing Angle of Attack indicator, and quick-deploying ICON Complete Airplane Parachute(ICAP) so pilots can fly with peace of mind.
"The ICON A5 is extremely well suited for the sport pilot, but at the same time I think it appeals to the mass market," said pilot Kirby Chambliss, a five-time U.S. Aerobatics Champion and Red Bull Air Race champion.
The standard ICON A5 model is amphibious with retractable landing gear and manual folding wings. The estimated price of the ICON A5 standard model is $139,000 and orders are now being accepted at www.iconaircraft.com with a refundable $5,000 deposit. Aircraft production and initial deliveries arescheduled to begin in late 2010.