Volkswagen Unveils The 62mpg, Super Low-CO2 BlueMotion Golf
Volkswagen has revealed a low-CO2 'concept' BlueMotion version of its redesigned Golf capable of achieving a combined EU test cycle 62 mpg while emitting just 99 g/km of CO2. It goes on sale in 2009.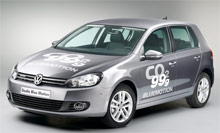 This matches the economy of the Polo BlueMotion, itself among the most efficient vehicles currently on sale, and will enable UK buyers to avoid paying annual UK road tax.
The BlueMotion label was first used for the Polo in 2006 and represents the most efficient model in each of VW's passenger car ranges. BlueMotion versions of the Golf Mk V and estate, Golf Plus, Jetta, Touran, Passat and estate and Sharan have since been launched.
The new Golf BlueMotion has a 1.6-litre TDI common rail diesel engine developing 105 PS and 184 lbs ft of torque at 2,000 rpm. It can reach 62mph (100km/h) from rest in 11.3 seconds and a top speed of 117mph.
Changes to drivetrain and aerodynamics boost efficiency. A set of low rolling resistance tyres are joined by optimised aerodynamics and revised ratios in the five speed gearbox.
The sixth generation of the Golf, which launches into the market in October, features a range of new diesel and gasoline engine and transmission technologies that reduce fuel consumption by up to 28% compared to the previous generation. All gasoline and diesel engines fulfill emission limits of the future Euro-5 standard.
The new entry-level diesel Golf 'mark six' will have a two-litre TDI 110PS common rail engine capable of achieving 62 mpg on the combined cycle while emitting 119 g/km of CO2, matching the economy of the outgoing Golf BlueMotion model.