Schwinn to Use Toshiba's SCiB Super Lithium Battery In Electric Bike
Toshiba Corporation has announced that its SCiB battery has been selected by Cannondale Sports Group, a global leader in branded bicycles and a division of Dorel Industries, Inc. to provide the power battery module for a new electric bicycle for the North American and European markets. Toshiba's SCiB 24V/4.2Ah module will be installed in the Tailwind, a new electric bicycle Cannondale Sports Group will bring to market under the Schwinn Bicycles brand, one of the most revered names in U.S. cycling history. Commercial launch of the Tailwind is scheduled for early 2009, in the North American and European markets.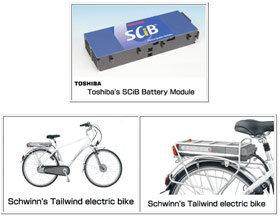 SCiB-the Super Charge ion Battery-is a breakthrough rechargeable battery developed by Toshiba that offers excellent safety, long-life and rapid charge.
SCiB and the Schwinn Tailwind electric bike, the first commercial application of SCiB, will be on display at Interbike 2008, the largest bicycle trade show in North America. Interbike will run from September 24 to 26, in Las Vegas.
"Electric bicycles are the fastest-growing bike segment in the United States and around the world, and we are committed to becoming a market leader in the eBikes category," said Bruno Maier, Executive Vice President and General Manager of Cannondale Sports Group. "We are honored to work with Toshiba in bringing the first commercial SCiB product to market, particularly since the launch of the Tailwind is a key part of our strategy as Schwinn Bicycles now has the fastest-charging electric bike on the planet."
"This is a significant milestone for SCiB," said Shoshi Kawatsu, General Manager, Super Charge Battery Div. of Toshiba's Transmission Distribution & Industrial Systems Company. "The SCiB is a major innovation. It is safe, powerful, and offers an exceptionally-fast recharge time. We demonstrated these characteristics to Cannondale Sports Group, and we are very pleased that they chose to bring the battery technology to the Schwinn Tailwind electric bike. In terms of environmental impact, the SCiB offers a long life that helps to reduce waste, and we believe that the new Schwinn Tailwind will have a strong appeal for people concerned with the environment."