World's First Wave Energy Farm Begins Operating in Portugal
The world's first commercial power plant that converts the energy of sea waves into electricity has begun operation off Portugal's north coast.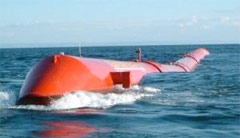 The Agucadoura project will initially generate power using three Pelamis wave energy converters, which are a semi-submerged, articulated structures composed of cylindrical sections linked by hinged joints. Described as articulated steel 'sea-snakes', they are moored to the seabed 7 km off the coast south of Porto.
The three PWEC are currently pumping 2.25 MW of electricity into the country's national grid, making Portugal the first country in the world to harness wave energy on a commercial basis.
This project is part of a broader partnership, the Ondas de Portugal consortium (Waves of Portugal), which will focus on the development of experimental wave energy projects.
The Agucadoura project will be the first of a series of projects undertaken by the partnership. In this first phase the total investment was around €8.5m ($12.5 m).
The second phase of the project will be to manufacture and install a further 25 machines and bring the installed capacity up to 22.5 MW.
Once complete the project is expected to meet the average annual electricity demand of more than 15 000 households and displace more than 60,000 tonnes per year of carbon dioxide emissions from conventional generating plant.
The project benefits from the Portuguese government legislation and implementation of a long-term feed in tariff for the electricity generated by the project. This incentive will in the future allow the project financing of these initiatives and provides an incentive for investment in the nascent technology by project financiers and technology providers.
"The price is not competitive at the moment and the project was possible because of the feed-in tariff in Portugal, which basically allows [us] to continue developing the technology ... but we hope that in 15 years wave power will be where wind is now, that is extremely competitive," said Anthony Kennaway, a spokesman for Babcock and Brown in a Reuters' report.
Portugal's main energy company EDP and engineering firm EFACEC each took a 15.4 per cent stake in the project.