Georgia to Host Three 100 MW Biomass Plants Costing 1.5 Billion
Oglethorpe Power Corporation (OPC), the nation's largest power supply cooperative, has announced plans to build as many as three 100 megawatt (MW) biomass electric generating facilities in Georgia. Designed as carbon-neutral and to utilize woody biomass, one of the state's most abundant renewable resources, the power plants will provide power to OPC's 38 member cooperatives, which supply electricity to nearly half of Georgia's population.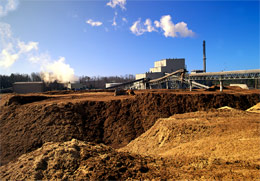 "With our abundant biomass resources, Georgia has the unique opportunity to expand our use of alternative energy, grow our economy and transform the way we provide energy to our citizens," said Georgia Governor Sonny Perdue. "Oglethorpe Power's pioneering investment in alternative energy is consistent with our goal to grow, convert, and use biomass energy to power our homes and businesses."
OPC has secured options for five potential sites in Appling, Echols, Warren and Washington counties. The first two biomass power plants are scheduled to be built and placed into operation in 2014 and 2015; however, which of the five sites will host the first plants is still to be determined. A third unit could also be completed and placed into service in 2015.
Capital investment in the biomass plants will range from $400-500 million per facility, with each providing approximately 40 good-paying, full-time jobs. In addition, each plant will require an annual investment of more than $30 million for fuel stock alone and will create a need for potentially hundreds of new jobs in the state's forestry industry.
Tom Smith, president and chief executive officer of Oglethorpe Power Corporation, said, "We're pleased to find an environmentally friendly way to help meet some of our members' growing demand for electricity. OPC's members continue to grow and have an increasing need for additional power."
The power plants will be steam-electric generation stations using conventional fluidized bed boiler/steam turbine technology. Fuel for the plants will consist of a woody biomass mixture, including processed roundwood (e.g. chipped pulpwood), primary manufacturing residue (e.g. wood waste from sawmills) and harvest residue (e.g. wood remaining in forests after clearing). The plants will be designed to allow for the co-firing of other types of biomass, such as pecan hulls and peanut shells. There are no plans to use any fossil fuels.
"With 12 million people expected to call Georgia home by the year 2030, we will need more energy to meet the demand of our growing population," said Chris Clark, executive director of the Georgia Environmental Facilities Authority (GEFA). "The addition of Oglethorpe Power's biomass electricity plants will help supply Georgians with homegrown energy that is clean and renewable."
Smith added, "We are committed to environmental stewardship and providing affordable and reliable power from a diverse mix of energy sources. Georgia has an abundant renewable biomass resource that is competitive with other available generation technologies. Unfortunately, our state is a poor location for wind energy and only has a modest potential for solar, thus making the case of biomass power generation as our best renewable alternative."
Employing environmentally responsible technologies, the biomass plants will meet all state and federal environmental requirements. The exact control technologies utilized will be determined as part of the permitting process. It is likely, however, that the plants will include filter baghouses for reduction of particulate emissions and selective non-catalytic reduction (SNCR) for control of NOx.
Depending on the location, water would be obtained either from onsite wells, nearby surface waters, from municipal sources or grey water from nearby industries. Each plant would be developed on a minimum of 150 acres of land to ensure an adequate buffer between the plant and its surroundings.