Ocean Power Deploys PowerBuoy Wave Energy Project In Spain
Ocean Power Technologies has announce that it has deployed its first PowerBuoy under contract with Iberdrola, one of the world's largest renewable energy companies, and its partners, at a site approximately 3 miles off the coast of Santoña, Spain.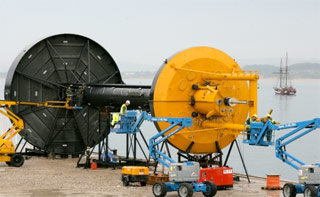 The deployment of OPT's PB40 PowerBuoy is the latest milestone toward the building of the world's first commercial utility-scale wave power generation venture to supply approximately 1.39 MW of electricity into Spain's electricity grid. The PB40, incorporating OPT's patented wave power technology, is the first of what is expected to be a 10-PowerBuoy wave power station to be built out in a later phase of the project, and generating enough electricity to supply up to 2,500 homes annually.
Mark R. Draper, Chief Operating Officer of OPT, said: "This deployment is of great significance to OPT and the wave power industry, demonstrating the commercial potential of our leading technology after a decade of in-ocean experience. We now look forward to the first supplies of electricity to the grid and the expansion of the wave power station."
PowerBuoys provide a minimal visual profile due to most of their structure being submerged. They have a design life of 30 years with standard maintenance recommended every three to four years. The grid connection system for the PowerBuoys has been certified by an independent engineering firm.
The PB40 steelwork was fabricated by a local supplier in Santander, Spain, and the power take-off and control system was built at OPT's facility in New Jersey, USA. The final integration and testing of the complete PowerBuoy was also conducted in Spain. The PowerBuoy is 21 feet in diameter at the sea surface, 60 feet in length and weighs approximately 60 tons