Reverse Osmosis Cube Uses Wind and Solar To Make Fresh Water
Spectra Watermakers has developed an innovative water purification system that could improve the lives of millions of people around the world who struggle to gather a dwindling supply of fresh water. The "Solar Cube," one of Spectra's new solar and wind powered water purification units is capturing the imagination of people searching for a better way of life.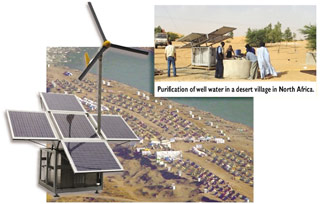 Spectra is supplied the new solar cube as part of a US Army project that involves testing the technology in south America. The hybrid reverse osmosis system produces 950 to 1500 gallons of pure fresh water per day depending on the source water. The "Solar Cube" was first delivered to Florida International University for testing and training. It was then shipped to Chile where it was deployed at several locations for a few months of operational testing by the Chilean military and civilian researchers. The unit was powered only by its integrated solar panels and wind generator in a broad range of environmental conditions and water sources, including sea water. At the Chilean Army Special Forces Base, the unit was subjected to identical desert conditions found in Iraq.
The objectives for the solar powered water purification aspect of the program was to conduct four demonstration/validation projects and evaluate the technical, operational, economic, and environmental feasibility of mobile/tactical Army Light Water Purification (LWP) Systems. These demonstrations will provide information and analysis in support of military operations (e.g. disaster response).
The "Solar Cube" is one of several in the Spectra product line that is powered by renewable energy. Designed to be easily portable and simple to operate, the solar cube is ideal for disaster relief and emergency preparedness. The unit is compact and incorporates automatic self-cleaning pre-filtration, water purification, pumping, and power supply, into a self-contained "marine grade" package.