90 Mile Range Electric DuraCar is Made from Recycled Plastic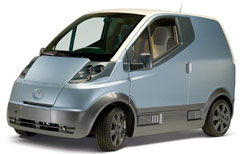 A Dutch carmaker is to introduce an amazing new vehicle that could change the way people feel about the automotive experience. The Quicc DiVa is a super lightweight urban transport microvan that is made entirely from recyclable plastic. When powered by a lithium ion iron phosphate battery it should achieve a range of over 90 miles and have a top speed of 75 mph. Its main purpose is as a city delivery vehicle and it can carry over 1300 lbs in its 77 cubic feet as well as the two people occupants. A limited production is planned for next spring for customers already standing in line and several configurations should be expected.
The QUICC! DiVa is not only fully battery electrically powered, body and chassis of the car are entirely made of recycled plastic, which proved to be a great engineering challenge. The QUICC! DiVa is green, economical and its compact design was developed for urban traffic purposes and for people who like the idea of having an almost completely recyclable vehicle. The Quicc will have its World Debut at the 2008 Paris Motor Show Oct. 4.