Coskata to Produce Cellulosic Ethanol From Sugar in Florida
U.S. Sugar Senior Vice President Robert Coker said his company and Coskata Inc., an Illinois-based biofuels startup, have been in talks to build a "very large" ethanol plant that could produce some multiple of 50 million gallons a year.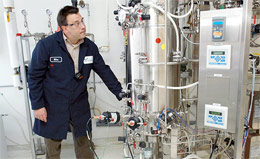 Coskata spokesman Wes Bolsen said early plans call for a $400 million plant capable of producing 100 million gallons from used sugar cane annually. It's one of as many as 10 such plants the company hopes to build around the state under a broader energy plan that has Crist's endorsement, Bolsen said.
"It's a three-way win," Bolsen said. "It's a win for the Everglades, it's a win for cellulosic ethanol, and it's a win for the farmers."
The plan calls for turning leftover sugar cane into ethanol, which the company says it can do for about $1 per gallon. Coskata specializes in producing ethanol from waste such as sugar cane leftovers, wood chips and even municipal garbage.
The company is eyeing sites in North Florida where it would make fuel from "woody biomass," such as tree bark, branches and forest refuse, Bolsen said.
Coskata made its energy scene debut in January at the North American International Auto Show, appearing arm-in-arm with General Motors CEO Rick Wagoner, who announced that the auto giant had bought a stake in the company. That alliance is aimed at producing a new generation of ethanol-fueled vehicles.
Sun Microscosystems co-founder and venture capitalist Vinod Khosla has also backed Coskata, Bolsen said. Khosla was a keynote speaker at Crist's 2007 climate change summit in Miami.
U.S. Sugar's history has had its own tangential ties to GM. The sugar company was formed in 1931 by industrialist and philanthropist Charles Stewart Mott, a major GM shareholder."