Aquaflow Produces World's First Cost Efficient Algae BioFuel
Aquaflow a New Zealand based company says it has has produced the World's first samples of green crude oil at a commercially competitive price.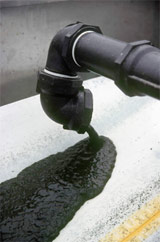 The biodiesel, made from wild algae grown on human sewage, was a world first, Marlborough-based company Aquaflow Bionomic Corporation said.
Aquaflow launched a $5 million capital raising for further research and development of its wild algae-based fuel in January last year.
The company refined the processes it had developed to create a next-generation fuel it calls "green crude", The Marlborough Express reported.
Company director Barrie Leay said green crude was a manufactured form of crude oil different from earlier generations of biodiesel.
Additional food crops or agricultural land were not needed and the end product was not just a fuel but could be used in products in the same way as crude oil can.
"This is an exciting development because we can separate fuels such as diesel and aviation fuels, as well as a range of high-value chemicals, from green-crude," Mr Leay said.
The company said it hoped to make it commercially viable.
Aquaflow sources its wild algae from Marlborough's oxidation ponds and its work was attracting interest from around the world.
Green-crude production also delivered clean water for irrigation or industrial re-use, and this was generating huge interest in the United States, the company said.
The 5 per cent algae-based component - extracted from the algae's natural oils - produced 90 per cent less emissions than regular diesel.
Source material for the biodiesel was readily available throughout New Zealand. By removing the main contaminant to use as a fuel feedstock, Aquaflow also helped clean up water discharge, fellow director Nick Gerritson said.