BPL to Bring 100 Mbps Home Broadband Speed at $9.95 a Month
Get ready for a revolution in home internet access that will change forever the balance of power in the high priced and stagnant home broadband internet market. The new Broadband over Powerline standard (BPL) should deal a death blow to the cable and telephone companies monopoly on speedy internet connections when it comes into being later this year.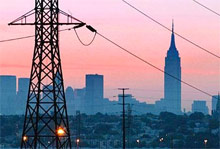 The dream of low cost broadband internet access will finally be available across the country with a simple to use modem that users just plug into any electrical wall socket in the home and enjoy incredible broadband speed. With connection speeds of over 100 mbps and an expected monthy cost of $9.95, BPL should lower the cost speed ratio for the average American by a factor of 10 in a very short period beginning by the end of 2008.
The HomePlug Powerline Alliance a group of over 75 companies, including Cisco, Intel and Samsung is settling on the final details of the new IEEP1901 standard and when home equipment begins appearing later this year consumers will benefit greatly from the low cost technology which is made possible because of the preexisting electrical power infrastructure. Without the expensive last mile issue faced by cable and telephone companies, new equipment costs for the consumer could be as low as $40 for the modem and may be included in bundled packages from utilities.
BPL is not new, but most American's probably have never heard of it because of the slow growth of standards, but with 10 million users worldwide BPL is an idea that can't be stopped and the cable and telephone companies are just going to have to live with a new player in town.